Please note that the site will be down for scheduled maintenance between:
0:00am - 3:00am on Wednesday, 22nd April 2015.
We apologise for any inconvenience that this may cause.


Trade Sales
(023) 8127 7000
fax (023) 8127 7001
(9am-5:30pm mon-fri)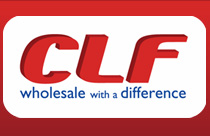 Whether you're a nutrition and healthy lifestyle retailer, a pharmacy, a gym owner or operator of any other outlet, CLF is the only wholesale distributor in the UK providing the necessary support to help grow your business.