Trade Sales
(023) 8127 7000
fax (023) 8127 7001
(9am-5:30pm mon-fri)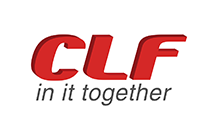 "We devote our business to independents and refuse to supply corporate giants such as Amazon, Holland & Barrett, Tesco Nutricentre and mass market grocery chains."

Let people know your products are available via CLF
To help you easily and clearly let people know that your products are available through CLF, we have our logo image available for download. We have a few simple guidelines to help give it the clearest presentation on black or white backgrounds.
Logos For Light or Dark Backgrounds

These logos are for use on any backgrounds. The PNG-1 is a logo with full transparency. PNG-2 is a logo with a white box with slight corners, also with transparancy. JPG is the CLF logo, just on white.
Logo Guidelines
Do:
Use our logo unmodified. You can rescale it as needed.
Make sure the text is in the exact positions it appears in.
Allow for spacing around the logo to ensure it doesn't meet any edges of a page, or border.
Don't:
Turn it into a speech bubble.
Rotate the logo in any way.
Change the colours of the logo.
Use any other marks or logos to represent our brand.
Text Details
Please use the new, up to date, CLF company details as needed.
CLF Distribution Ltd
210 Mauretania Road
Nursling Industrial Estate
Southampton
Hampshire
SO16 0YS
Tel: (023) 8127 7000
Email: info@clfdistribution.com
Website: www.clfdistribution.com